Schnittmengen #1: Writing the History of the Now
17.04.2018, Kunsthalle Basel, Basel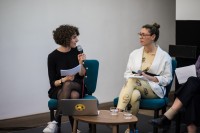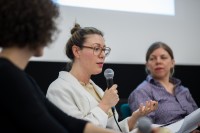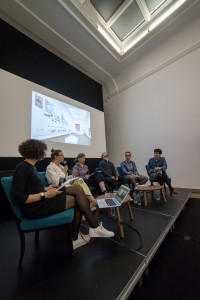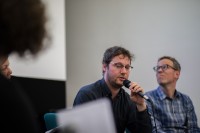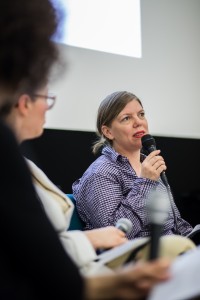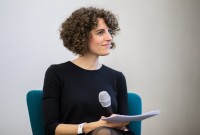 To kick off the series of talks "Schnittmengen", Nicolas Brulhart (curator Forde, Geneva and archive curator, Kunsthalle Bern), Elena Filipovic (director Kunsthalle Basel), Philipp Messner (archivist, UZH Archive, Zurich) and Judith Welter (director Kunsthaus Glarus) talked about making the history and heritage of an institution visible in the context of curatorial work.
Knowledge that is produced in exhibitions is often knowledge about the site of the exhibition: in the thematization of the history of an institution within the context of an exhibition, the history of a house collides with (possibly diametrically opposed) historical vectors suggested by the art shown. How can these two thrusts be negotiated, as it were, so that the preoccupation with the history of an institution does not remain merely selective?
The discussion was organized and moderated by Katharina Brandl and Claire Hoffmann and was held in English.
The series of talks Schnittmengen negotiates the gaps between academic and curatorial knowledge production through a series of panel discussions and is organized by eikones - Center for the Theory and History of the Image.